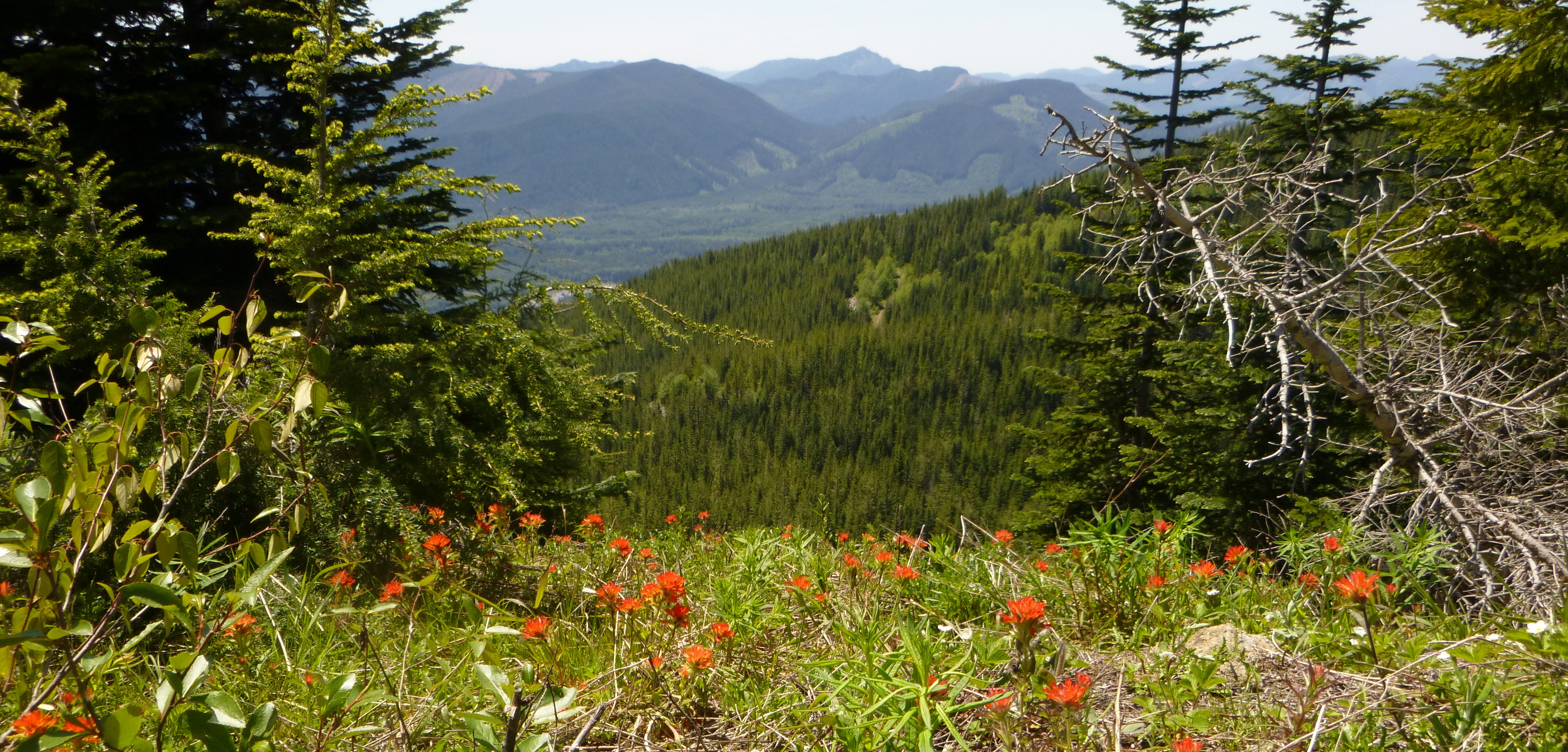 Land Protected: 3,796 acres
Shoreline Protected: 63 miles of tributary stream shoreline
Protection Timeline: 2006 (405.8 acres); 2008 (185 acres); 2009 (734.9 acres); 2010 (600 acres); 2012 (577.5 acres), 2016 (640 acres), 2017 (653 acres)
Conservation Values: Fish and wildlife habitats including tributary streams and forested riparian zones; wetlands; and upland forests
Property Overview:

The Land Trust launched the Mount Rainier Gateway Initiative in 2005 in response to the Ashford, Washington, community's request for help in protecting privately held forest that surrounds the town. The primary catalyst for the initiative was the proposed clear-cut harvest of forest along State Route 706, which threatened mature forest habitats, riverine wetlands, and the highway's scenic corridor. These forests contain important habitat for northern spotted owls, marbled murrelets, bald eagles, elk, cougar, black bear, and many other species. Funding partners for this initiative included the Nisqually Indian Tribe and the U.S. Fish and Wildlife Service's Cooperative Endangered Species Conservation Fund, which conserves habitat for federally-designated endangered and threatened species. Accordingly, this property will be managed in perpetuity for the benefit of northern spotted owls (Strix occidentalis) and marbled murrelets (Brachyamphus marmoratus). To accomplish this goal, our primary management strategies promote the following objectives:

Protect sensitive wildlife species and habitats from human degradation.
Enhance and restore ecosystem processes and native habitats to increase habitat resilience, biological complexity, and environmental adaptability, and reduce the need for active management over time.

In 2016 and 2017, this Protected Area was expanded to include the first properties to be managed as a part of the Nisqually Community Forest. These includes part of the headwaters area of Busy Wild Creek, which feeds into the Mashel River.

Conservation Partners: U.S. Fish and Wildlife Service, Nisqually Indian Tribe, US Forest Service, Pierce County Conservation Futures, Washington Wildlife and Recreation Program, Puget Sound Acquisition and Restoration Program, and many private donors
Habitat Restoration Partners: US Fish and Wildlife Service, Natural Resources Conservation Service, Northwest Natural Resources Group, and volunteers
Property Guidelines:

Individuals are welcome to utilize the Mount Tahoma Trails Association ski trails on this site during the winter ski season. Visit skimtta.org for more information.
In addition, individuals are welcome to visit the Land Trust properties accessible from the 85 Road and the 59 Road during daylight hours year round. Please limit your activities to low-impact recreation such as cross-country skiing, bird watching, photography, and nature enjoyment. All organized activities (e.g. school visits or tours) must be coordinated with the Land Trust at least a month in advance. Please note: There are no parking lots, maintained trails, or other visitor amenities at this site. Follow all posted signs and respect the privacy of neighboring landowners. Please do not disturb or harvest plants, fungi, animals, minerals, or historic artifacts.

Hunting is allowed on the property accessible from the 85 Road during the state regulated deer and elk hunting seasons. At this time, this is the only Nisqually Land Trust property where hunting is allowed.

All other portions of this protected area are closed to the public at this time. This site is being managed to promote the most beneficial habitats for fish and wildlife species.
Mount Rainier Gateway Protected Area Public Access – Maps (PDF)
More information about public use of Nisqually Land Trust properties.
Policy on Public Use of Nisqually Land Trust Lands (PDF)
Get Involved at this Site: