---
We keep busy, and you can read all about it.
Check out our recent:
newsletter | Notes from the Field stewardship blog | news posts
Camaraderie, fun and meaningful accomplishment await you as a Nisqually Land Trust volunteer. From our board of directors to site stewards who help monitor and restore our protected lands, our volunteers contribute their time, expertise and enthusiasm.
Thank you to the many donors, supporters and sponsors who contribute so generously to the land protection work that we do.
There are many other ways that you can help support our mission, including:
Event Sponsorship | Legacy Giving
| Support us while you shop!
---
Donate to the 2016 Conservation Appeal
(PayPal account not required; accepting credit and debit card transactions)
---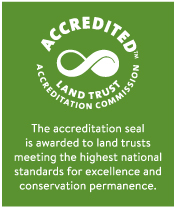 Sound Finances
Ethical Conduct
Responsible Governance
Lasting Stewardship
Monday, January 16th – Planting and site maintenance at Ohop Creek (Eatonville)
Wednesday, January 18th – Planting at Yelm Shoreline (Yelm)
Saturday, January 21st – Planting at Wilcox Flats (Roy)
Tuesday, January 24th – Plant Salvage with CNLM at Glacial Heritage
Wednesday, January 25th – Planting at Mashel River (Eatonville)
Saturday, January 28th – Snowshoe at Mount Rainier Gateway (Ashford)
---
Founded in 1989, the Nisqually Land Trust acquires and manages critical lands
to permanently benefit the water, wildlife, and people of the Nisqually River Watershed.