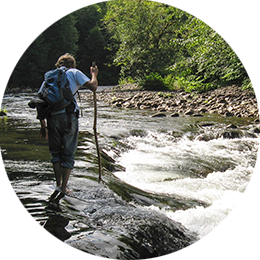 View our
2015 Winter Newsletter
.
Have you heard?
The Land Trust has partnered with Microsoft in a history-making carbon credit deal!
Read the latest
Notes from the Field
and our
new posts.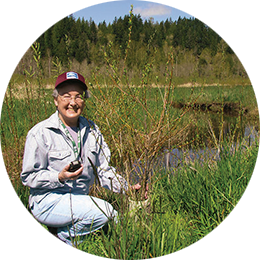 Camaraderie, fun and meaningful accomplishment await you as a Nisqually Land Trust volunteer. From our board of directors to site stewards who help monitor and restore our protected lands, our volunteers contribute their time, expertise and enthusiasm.
Would you like to learn more about the Nisqually Watershed? The
Nisqually Stream Stewards Program
is accepting applications for the 2016 Stream Stewards class. Email streamstewards@nisquallyriver.org or call 360-438-8715 to learn more.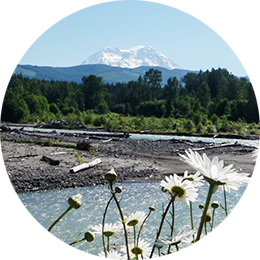 Thank you
to the guests, donors, sponsors and volunteers who contributed to the resounding success of our
2016 Annual Conservation Dinner & Auction
on April 2nd. Together, we raised over
$133,000
for the Nisqually Watershed!
Rising from the meltwaters of an ancient glacier, the Nisqually River courses 78 miles through Mount Rainier National Park to its delta in the Nisqually National Wildlife Refuge, on Puget Sound.
Founded in 1989, the Nisqually Land Trust acquires and manages critical lands to permanently benefit the water, wildlife, and people of the Nisqually River Watershed. Today we protect over 5,000 acres between the park and the wildlife refuge.
Nisqually Land Trust Earns National Recognition
-
In September 2013, when Land Trust Conservation Projects Manager Nicole Hill walked across center stage at the Land Trust Alliance rally in New Orleans to accept our award of national accreditation, she did so on behalf of the entire Land Trust team – not just our board and staff, but also... Read more

"Nisqually Land Trust Earns National Recognition"
Monday, May 30th - In observance of Memorial Day, the office is closed.
Wednesday, June 1st - Scotch broom control at Thurston Ridge (Yelm)
Saturday, June 4th - Nature Walks at Mashel River (Eatonville)
Wednesday, June 8th - Weed control at Red Salmon Creek (DuPont)