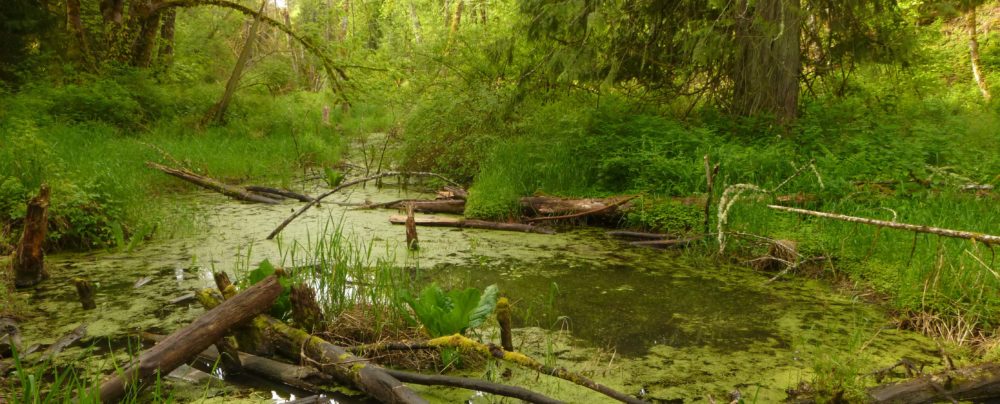 Land Protected: 238.7 acres
Shoreline Protected: 2.6 miles of river shoreline; 3.0 miles of tributary stream shoreline; over a mile of ponded wetland shoreline
Protection Timeline: 1995 (19.8 acres); 2000 (36.3 acres); 2001 (24.8 acres); 2004 (60 acres); 2007 (29 acres); 2010 (23 acres); 2014 (2.5 acres); 2016 (24.7 acres); 2017 (18.6 acres)
Conservation Values: Fish and wildlife habitats, including forested riparian shoreline along the mainstem of the Nisqually River; upland forest; floodplain forest; riparian forest corridors along tributary streams; and a mosaic of ponded and forested wetlands
Property Overview: Since 1995, the Land Trust has been working with landowners in the Yelm area to protect habitats important to fish and wildlife along the Nisqually River. This Protected Area includes Bill and Cathy Elledge's Trestle Farm. This reach of the Nisqually River is used by all of the Nisqually salmon and provides critical habitat for coho, Chinook and steelhead trout.
Conservation Partners: Bill and Cathy Elledge; Washington Recreation and Conservation Office – Salmon Recovery Funding Board and Habitat Conservation Account; Centralia City Light; Thurston County Conservation Futures
Habitat Restoration Partners: Natural Resources Conservation Service; US Fish and Wildlife Service; Twinstar Credit Union; Nisqually Indian Tribe; Nisqually River Foundation – Education Project; Darden Restaurants; and many volunteers
Property Guidelines: This Protected Area is managed to promote the most beneficial habitats for fish and wildlife species. While there are no formal parking areas, restrooms or maintained trails, low-impact activities, such as bird watching, photography, and hiking are allowed. Please be sure to read and follow all posted signs. Please do not disturb or harvest plants, fungi, animals, minerals, or historic artifacts.
More information about public use of Nisqually Land Trust properties.
Policy on Public Use of Nisqually Land Trust Lands (PDF)
Get Involved at this Site: