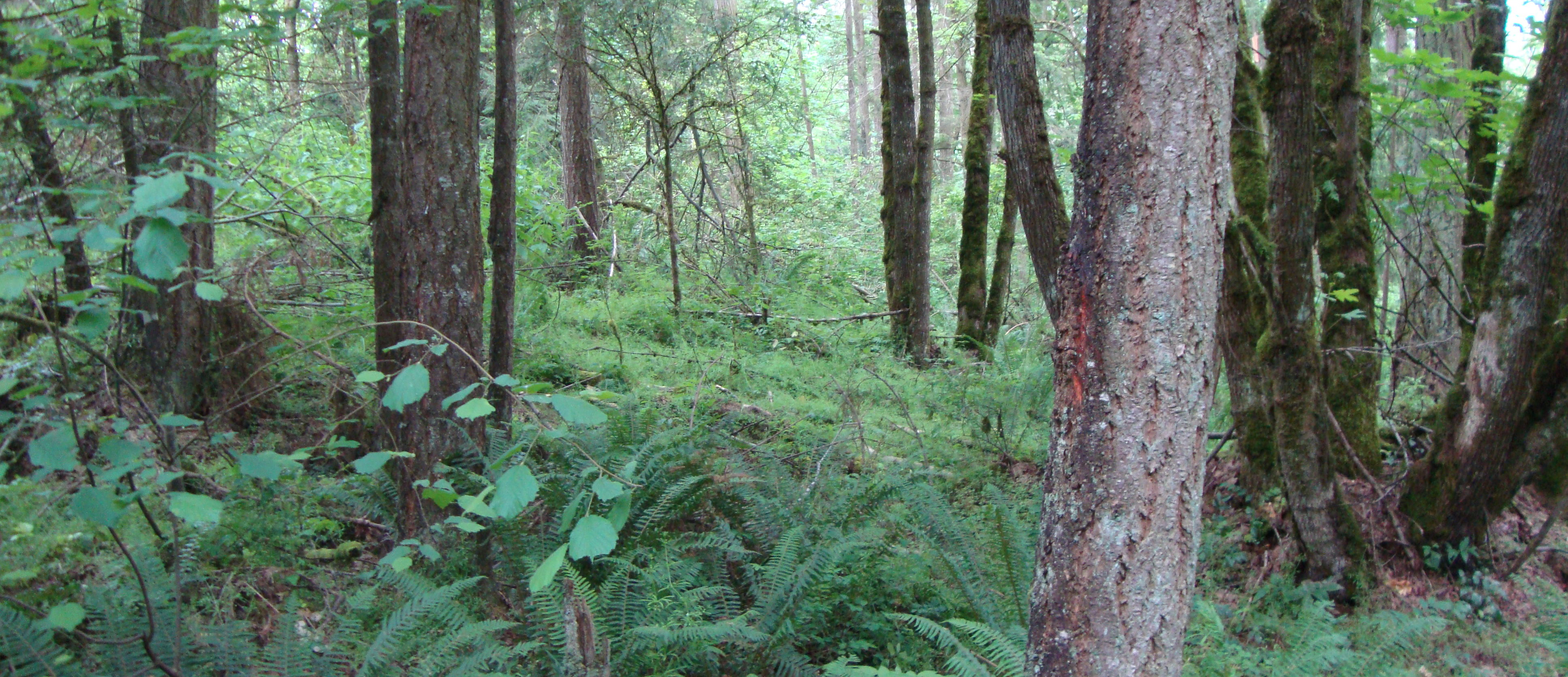 Land Protected: 461.1 acres
Shoreline Protected: 2.9 miles river mainstem shoreline; 1.4 miles side channel shoreline; 1.5 miles of Powell Creek shoreline; just over 1.0 mile of Powell Creek wetlands shoreline; and 0.4 miles of Tanwax Creek shoreline
Protection Timeline: 1990 (0.3 acres); 1993 (64 acres); 1994 (20 acres); 1999 (30.2 acres); 2000 (3.3 acres); 2004 (6.2 acres); 2005 (18.8 acres); 2006 (260.3 acres); 2007 (8.5 acres); 2008 (7 acres); 2011 (33.7 acres); 2014 (9.0 acres)
Conservation Values: Fish and wildlife habitats, including river mainstem and side channels, streams, wetlands, open fields that are being reforested, mature riparian forest and upland forest
Property Overview: The Land Trust's protection of this section of the Middle Reach of the Nisqually River began in 1990 with a donation from the Wolfs at the mouth of Powell Creek. Since then the Land Trust has added over 450 acres, including stands of mature forest that line the Nisqually River, the lower reaches of Powell Creek and Tanwax Creek, a large portion of the Powell Creek wetland, and fallow pastures and fields that are being reforested. This site is home to abundant wildlife, including elk, cougar, and many species of waterfowl. In addition to planting native trees and shrubs to reforest riparian areas in this dynamic floodplain area, the Land Trust has partnered with the Nisqually Indian Tribe and South Puget Sound Salmon Enhancement Group to remove fish barriers from this site.
Conservation Partners: Salmon Recover Funding Board; Nisqually Indian Tribe; Northwest Pipeline Corporation; US Fish and Wildlife Service; Peggy and Harold Wolf
Habitat Restoration Partners: Nisqually Indian Tribe, Salmon Recovery Funding Board; US Fish and Wildlife Service; Natural Resource Conservation Service; Thurston Conservation District; Washington Department of Natural Resources; South Puget Sound Salmon Enhancement Group; many volunteers
Property Guidelines: Individuals are welcome to visit the Land Trust property accessible from the paved portion of Peissner Road and the end of Hobson Road during daylight hours. Please note: there are no parking lots, restrooms, maintained trails, or other visitor amenities at this site.  This site is being managed to promote the most beneficial habitats for fish and wildlife species, so visitors should limit activities to low-impact recreation, such as bird watching, photography, and nature enjoyment. All organized activities (e.g. school visits or tours) must be coordinated with the Land Trust at least a month in advance. Please follow all posted signs and respect the privacy of neighboring landowners. Please do not disturb or harvest plants, fungi, animals, minerals or historic artifacts.
More information about public use of Nisqually Land Trust properties.
Policy on Public Use of Nisqually Land Trust Lands (PDF)
Get Involved at this Site: